Screamo, emo, whatever you call it you love it. Traditionally a fusion of hardcore punk and post punk, today it has become more of a blend of metalcore, hardcore punk, pop punk, and various alt. rock off shoots. When we say modern, we're talking 2009 to the present. So if you don't see an album, be sure to check out our "Top 10 Classic Post Hardcore" albums post.
Go to our Top 10 page to see our honorable mentions. We understand that everyone has their own opinions, and definitions of post hardcore may vary. Keep in mind we can only listen to so many albums before our brains explode, so we've probably overlooked an album or two. If that's the case, we're sorry so please comment and let us know which album you think should be included.
10. D.R.U.G.S - Destroy Rebuild Until God Shows (7.5/10)
With a name just as bizarre as their album artwork, this band starts our list off an a rather unique foot. D.R.U.G.S being t
he new project of Craig Owens after he departed
Chiodos
in 2009.
The chorus of lead single "
If You Think This Song Is About You, It Probably Is
" will make anyone's day. Pop infused and catchy, this song made fans anticipate the full length even more than before. There aren't any double meanings or metaphors on this album, Owen's is a blunt as possible with his messages. The guy doesn't mince words as he belts out "Be honest, did you ever mention my name? Did you ever get sick of the shame? Did you lie on your back like a whore?" And with the closing song shutting the album down with an equal amount of energy as the opener, you have to appreciate the album for what it is. A good time.
9. Common Courtesy - A Day To Remember (8/10)
Typically known for their easycore sound, the band ditches that for a more post hardcore, mainstream rock sound on their most recent album. "CC" was released back in 2013 after a lengthy battle with their label Victory Records. Taking all the experience from the band's previous albums, ADTR come back swinging with this heavy hitter. "Right Back at It Again", "City of Ocala" and "Life @ 11" are nods to the band's pop punk roots, while the rest of the album goes full steam ahead with some heavier influences. "Sometimes You're the Hammer, Sometimes You're the Nail" easily the strongest song blends modern post hardcore feels with slower acoustic pop vibes. Ballads like "End of Me" and "I Surrender" offer a softer side to the band which was rarely seen in previous albums. Closer "I Remember" is a nice look into the band's relationship with each other. The spoke track parts are a nice touch, and give fans an inside look into the band's lives.
8.
Let's Cheers to This - Sleeping with Sirens(7.5/10)
The high point in this band's career, Sleeping with Sirens peaked in 2011 with this album. A serious step up from their debut, which while nice to listen to had some serious flaws. But this album does everything right. Catchy songs aren't weighed down by electronics, numbing breakdowns, or bad autotune. Kellin Quinn's vocals lose some of their whiney edge, and Jesse Lawson adds his unclean vocals to give the album that edge it needs. "Do It Now Remember It Later" being the strongest track, opens the album with an energetic, pop punk inspired track. "If You Can't Hang" gives the band their sing along love song, and their signature tune. "A Trophy Father's Trophy Son" becomes the heart warming cry to neglectful parents everywhere, and captures the love of so many fans. Other noteworthy tracks include "Tally It Up, Settle the Score" and "Postcards and Polaroids".
7. Younger Dreams - Our Last Night (9/10)
Click this (link) to read our complete review of this album, we're not going to bore you with a duplicate. In short, this album blends mainstream pop tendencies with the band's unique brand of post hardcore, giving you a truly unique sound. The band's DIY ethics fuel their passions, and it shows in the end product. This is the album for those new to the genre, as Our Last Night doesn't dominate their songs with unclean vocals, and throws in familiar pop structures.
6.
Fragile Figures - SECRETS
(8.5/10)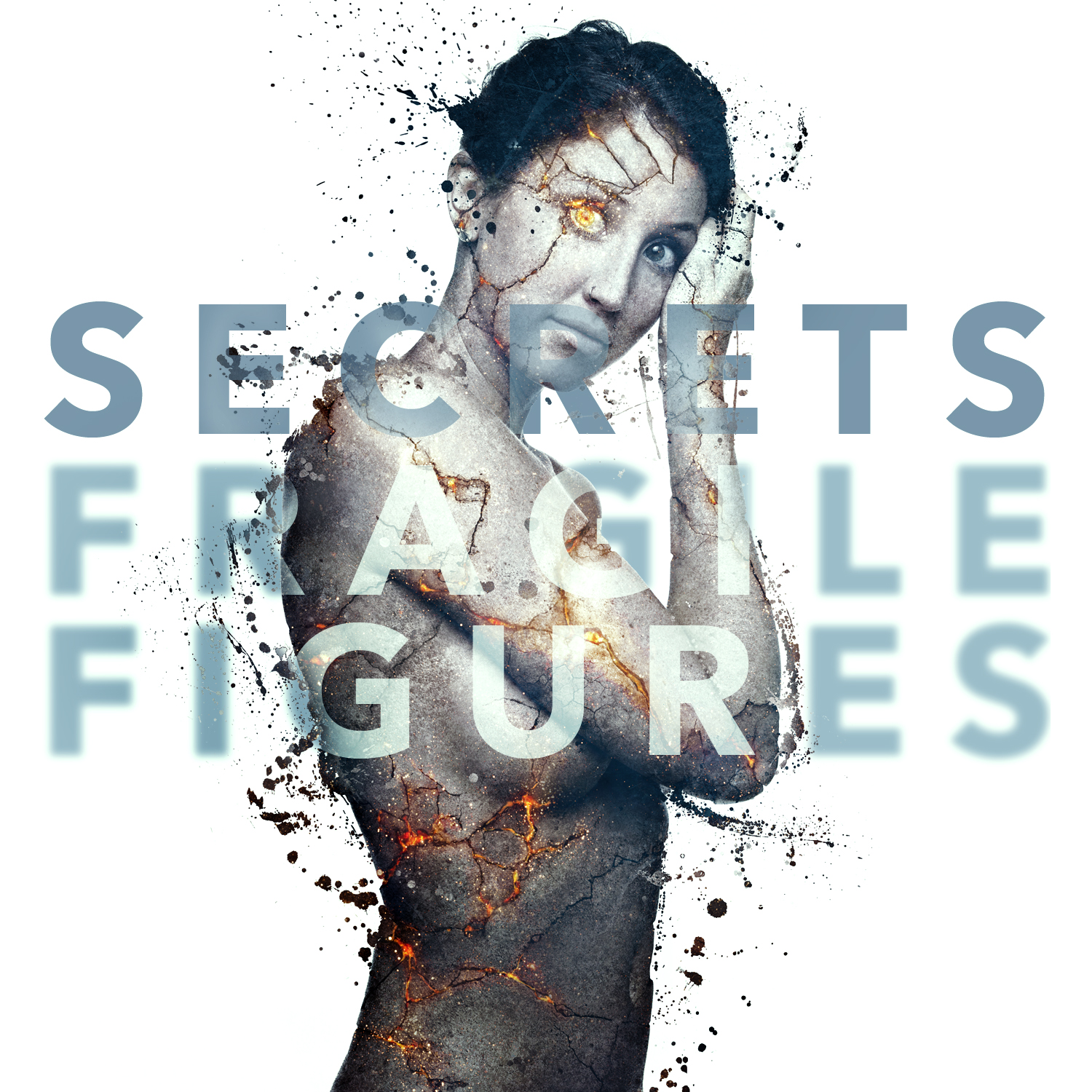 One of the best albums from 2013, it has everything a great album needs. Produced by Tom Denney, former guitarist for A Day to Remember, he guides the band towards success in their sophomore effort. Tracks like "How We Survive", "Ready for Repair", "The Architect Pt 2" and "Infinite Escape" give this band some sing along moments mixed flawlessly with heavier sections. "Dance of the Dead", from the deluxe edition, is arguably the best song the band has released thus far. SECRETS strongest's attribute is the dynamic created between their dual vocalists, not unlike The Amity Affliction or Our Last Night. Richard Roger's higher, almost Kellin Quinn-esc voice is a stark contrast to Aaron Melzer's gritty, gnarled growls. But a better match than original frontman Xander's much deeper vocals. Their pop punk choruses, and harsh hardcore verses and breakdowns have managed to standout in a crowded field. Things look very bright for these San Diego boys.
5.
Unimagine - Hands Like Houses (9/10)
We could have included this band's debut as well, but this album fits the "post hardcore" bill more so. Hands Like Houses create songs that have the post hardcore edge, but are free of unclean vocals. Instead, Trenton Woodley's vocals rise and fall with emotions and the grace of a singer twice his age. The band is known for their emphasis on melodies, and their unique fusion of sounds. "Shapeshifters", "Introduced Species" and "No Parallels" are just a few of the gems found on this album. "Introduced Species" being the lead single, it is the best example of the band's hybrid sound. Using Drop C tuning, and some well timed breakdowns, the band uses post hardcore has the backdrop for their song. Layering on alt. rock with Trenton's vocals, and you get one kick ass song.
Unclean vocals used as accents rather than as the main event, this band knows what they're doing, and we can't wait for their 3rd album this fall!
4. Collide with the Sky - Pierce the Veil (8.5/10)
What post hardcore list would be complete without some Pierce the Veil? The band's 2012 album is the gateway album for many new listeners of the genre. Self proclaimed "mexicore" due to their Latin influences and heritage, PTV crafted one of the finest albums of 2012. With songs "King for a Day feat. Kellin Quinn" and "Bulls in the Bronx" under their belt it's little wonder why the band shot to the top of the music scene. Choruses that will be all but branded into your mind, and breakdowns mixed with a little Latin flavor, this band creates a unique experience for listeners that no one can forget. Vic Fuentes delivers stellar vocals, which are strongest on "Hold on Till May feat. Lindsey Stamey", a fan favorite and setlist staple.
3. Fake History - letlive. (8/10)
An album that is only eclipsed by this band's live shows. letlive. have a reputation for creating music that challenges listeners' minds, and breaks preconceived labels. "Fake History" was the album that gave the band the attention they needed, and so rightly deserved. Jason Butler's performances both in studio and live are nothing short of amazing. Vocals that range from harsh screams to soft cries, he puts so much energy and emotion into what he says. The 6th track, "Muther", is an emotionally fueled love ballad featuring Chelsea Warlick, and it deserves an entire review of praise. "Renegade 86" the opposite, a roaring punk influenced track that never stops. Lyrics centered around politics, emotions and intelligence, you won' find an album that sounds good to the ear, and may make your smarter at the same time.
2. Know Hope - The Color Morale (9/10)
Seriously underrated, any one of this band's albums could have made this list. But out of the four, "Know Hope" is the strongest, best example of how talented TCM is. Singles "Learned Behavior" and "Strange Comfort" are perfectly crafted, with better guitar work and breakdowns that don't get blurred together. Mixing sounds from their previous albums, the band creates an album with less unclean vocals and more melodic choruses. This is one of the best written albums, Garret Rapp at his peak here. Lyrics full of positive messages, that are honest and true. Vocals are similar to the "half screams" that Oli Sykes has been known to produce in recent years, Rapp choosing to do away with the metalcore vocals. And it suits the album to a tee, as the album marks a departure from the band's metal days into a post hardcore outlet with rhythmic verses and arena ready choruses. Before the band left Rise Records, we held out hope that they would release an acoustic EP. Let's face it, an acoustic version of "Strange Comfort" would be awesome.
1. Sempiternal - Bring Me The Horizon (9/10)
It's hard to put this album in one genre, but at the end of the day it's still Bring Me The Horizon producing a lighter version of their typical metalcore. Metal meets punk, meets electronic, meets orchestra rock, this album tumbles all over the map. BMTH have prove themselves some of the best writers in the music industry. Oli's lyrics lost their angry edge, marking a shift in the band's aesthetic. They band began to focus on a more positive sound, ditching chugged guitars for melodies, layering, and harmonies. Choruses from "Sleepwalking", "Go to Hell For Heaven's Sake", and "Can You Feel My Heart" will capture your attention in the best ways possible. Heavier numbers "The House of Wolves", "Antivist", and "Shadow Moses" hold the band's true metalcore influences. Whether you like them, hate them, or have never heard of them, everyone can agree that BMTH are at the top of their field for a reason. The highlights from previous albums meld together with new influences into this stellar album. Their upcoming 5th album has a lot to live up to.