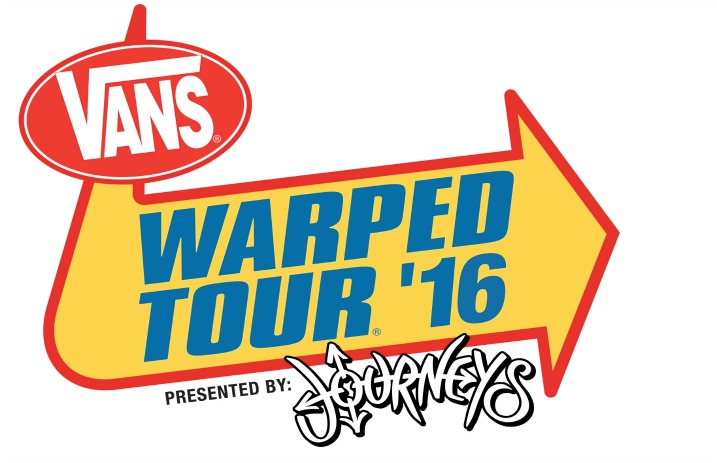 Not a conventional review, but we're going to break down this year's choices for the 2016 lineup of Warped Tour. 20+ years on the road every summer, bringing you all kinds of music. And this year, it seems the tour is getting back to basics. Lots of great pop punk bands, and not as many heavy headliners. This is PART 1 of a two part post covering the 2016 edition of Warped Tour. Click this (link) to read PART 2.
Click this (link) to visit the tour's official website.
Warped Tour announced their lineup via a live webcast. They're previously used live webcasts to showcase their kick off party show, as well as the first day of Warped Tour. While they've given us the lineups for their 6 main stages, fans may wonder what about some of the side stages.
The tour has, in recent years, included an acoustic stage, a local talent stage, an electronic stage, and a "rookie" stage for bands who are just starting out (aka the Ernie Ball Stage for "The Battle of the Bands"). But this year, could they be scrapping those stages in favor of focusing efforts on the 6 main stages? Maybe, maybe not. It's hard to say.
There's a lot of time between now and the first day, so we could get further lineup announcements.
Or this could be the first year in a long time when the tour downsizes for a better experience.
Thankfully, Warped did away with the comedy tent. Which didn't draw in much of a crowd, from what we saw. People come for the music, not for laughs.
Journey's Left Foot
One of this year's main stages, makes it clear, this is the place to be for classic pop punk. You've got original Warped heavy weights like New Found Glory, Sum 41, Yellowcard, Reel Big Fish, Less Than Jake, and Good Charolette. For the first time in years, it looks like everyone asking for more of the 00s era Warped Tour bands have gotten what they asked for. You also get the next generation of Warped in Four Year Strong, We the Kings, and The Summer Set.
The only odd souls in this stage lineup are Set It Off and Falling in Reverse. SIO are like Fall Out Boy, but easier to swallow without all the production and pretentiousness. FIR, well their reputation proceeds them doesn't it? "Emo-core" that fluctuates between bad, cringe worthy, and surprisingly good.
All in all, it's a pretty good mix for one of the tour's main stages. And even when one considers FIR and SIO (whose music leans more to mainstream rock these days), a little variety never hurt anyone. If you're a fan of pop punk, you'll probably be camped out here all day.
Journey's Right Foot
The right foot doesn't disappoint we can say that much. The first 10 bands announced round out the lineup for the second main stage. And it's all about the stars of today. The bands who will be playing this stage for the entire tour are Issues, Mayday Parade, Sleeping with Sirens, Tonight Alive, State Champs, The Story So Far, Real Friends, and The Maine. Pepper and 3OH!3 will be playing select dates, so we're excluding them from the "round up".
Issues is by far the heaviest band on this stage. Sleeping with Sirens does have some pretty edgy songs in their arsenal, but we haven't heard the band perform any of them since 2011. The majority of these bands fall under alt. rock, pop punk, or pop rock. Comparing the two main stages, it's hard to say which one has the better mix.
If you traded Good Charolette, Falling in Reverse, The Summer Set, and Set It Off, for Tonight Alive, Real Friends, State Champs and The Story So Far, then Left Foot would have a huge advantage. But since that's unlikely to happen, we'll just go ahead and say we're partial to Right Foot.
Full Sail University Stage
This year the tour seems to have combined their "Ernie Ball Stage" and their "Kevin Says Hard Rock Stage" with this Full Sail sponsored stage. This year's tour marks the first time the Ernie Ball Stage isn't make an appearance on the tour since 2000. Or will that stage only be for the "Battle of the Bands" now? Only time will tell.
For those who don't know, Full Sail is a for-profit university that specializes in audio and video production. A very appropriate fit for a Warped Tour sponsor.
The stage lineup is, as always, diverse to say the least. You get alt. rock, hard rock, some various "core" offshoots, and even some acoustic. It's a little bit of everything. But if we may, we highly recommend you go and see the following bands, because they're sure to leave their mark in the comings years.
Hail the Sun

- A progressive rock meets emo band set to release a new album sometime this year

Capsize -

Melodic hardcore band, they just released their debut on Equal Vision Records this past September

Avion Roe

- A band that combines orchestral rock, emo, and a whole lot of grandeur to give listeners a very unique experience

Cane Hill -

Gritty, Lousiana metal at its best

Wage War -

A metalcore band that released one of the best debuts, and one of the best metalcore albums in the past five years. To read out full review click this (

link

)